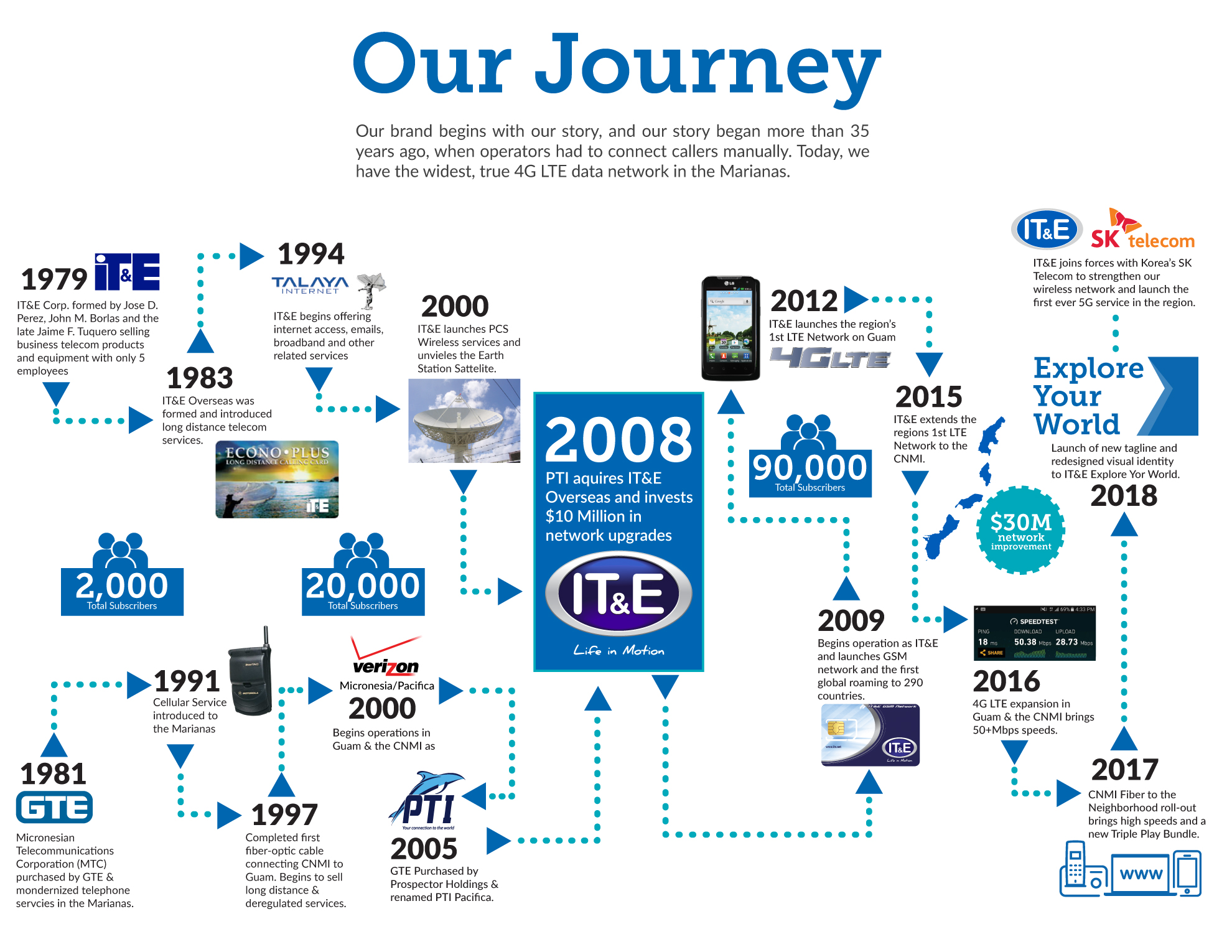 For over 35 years, IT&E has been delivering connections that matter. IT&E serves more than 90,000 subscribers on the widest 4G LTE Data Network in Guam and the Marianas. We believe that technology can be used to help people live their best life,
Our story began more than in the late 1970's, when operators still connected calls manually. Today, we have the widest 4G LTE Network in the Marianas and Guam. Ours is a story of technological innovation, exploration and evolution.
Our milestones:
1979 – IT&E Corp. is formed by Jose D. Perez, John M. Borlas and the late Jaime F. Tuquero, selling business telecommunication products and equipment.
1983 – Guam is connected to the rest of the world with long distance telecommunication services introduced by IT&E Overseas.
1994 – The world wide web comes to Guam with the launch of Talaya Internet, which introduces internet access, email, broadband and other related services.
2000 – Communications improve with the launch of PCS Wireless services and the new earth station satellite, which enable more worldwide transmissions to route through IT&E.
2008 – A new chapter of innovation and technological advancement begin. PTI Pacific purchases IT&E and invests $10 million for network upgrades.
2009 – Guam and the CNMI become even more interconnected when IT&E and GTE are combined under the IT&E name. Advancements continue with the launch of our GSM network.
2012 – IT&E launches the regions first LTE network on Guam, with speeds on par with the rest of the world.
2015 – The LTE network is extended to the CNMI.
2016 – Residents experience increased speeds of up to 50+ Mbps with 4G LTE expansion in the Guam and the CNMI.
2017 – CNMI Fiber to the Neighborhood rolls out, bringing high speeds and a new Triple Play Bundle
2018 and beyond – Expansion continues, with more innovation and upgrades to come.