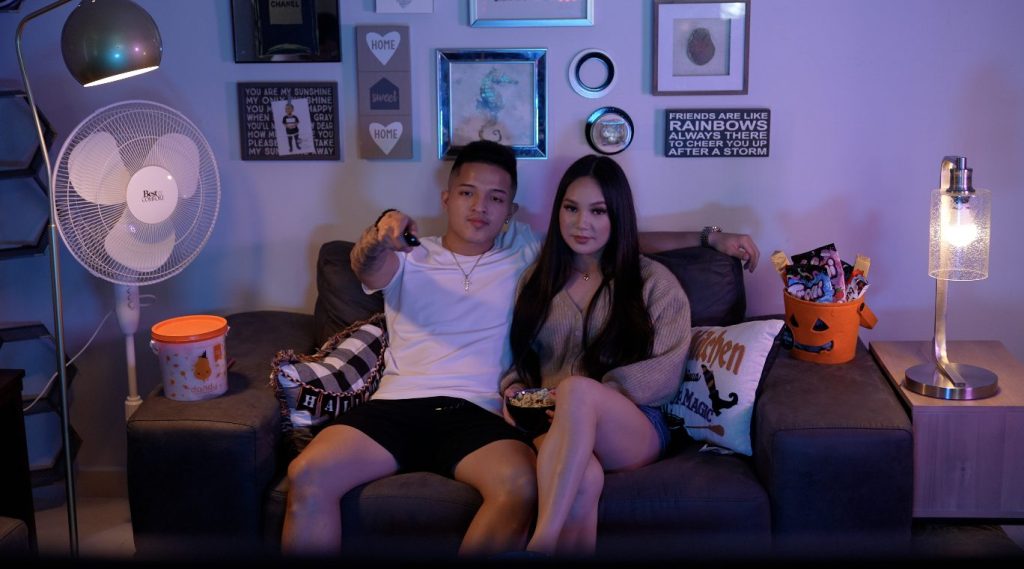 With Halloween falling on a weekend this year, it's the perfect time to celebrate at home the whole day with a few scary movies or spooky shows that you can stream on your high-speed internet connection, like a Home Internet Bundle or BEAM Home Internet.
Here are 13 of our favorite thrillers, horrors and Halloween-themed movies and shows that we know you'll enjoy, too.
1. Nightbooks
Platform: Netflix
Best for: Teens, family
Young Alex must tell a scary story every night in order to escape the clutches of an evil witch. He and his companion must face and outsmart a variety of horrors, like ghosts, spider-like creatures, scary-faced witches and more. While this movie has a positive message of being true to oneself and a good friend, the scares and slightly dark themes make this movie more suitable for teens.
2. Fear Street trilogy
Platform: Netflix
Best for: Mature audiences
Ghosts, mystery, and gore – this teen slasher film has it all. The trilogy is based on R.L. Stine's Fear Street book series but is not adapted from any particular book. For those that grew up reading R.L Stine this is a surprise new story and will make you feel nostalgic. For those new to this universe, it's a fun series to watch. The trilogy unravel the truth behind horrific events in the small town of Shadyside.  Watch in order: Fear Street part One: 1994; Fear Street Part Two: 1978; and Fear Street Part Three: 1666.
3. The Addams Family (2019)
Platform: Hulu
Best for: The whole family
No Halloween would be complete without the original spooky family. Everyone will enjoy their over-the-top ghoulishness. For this animated version, you can expect silly humor and an overall message of the importance of family.
4. Crimson Peak
Platform: Netflix
Best for: Mature Audiences
While not necessarily super scary, Crimson Peak by Guillermo Del Toro is a gothic horror that will definitely put you in the Halloween mood with its dark and sinister cinematography and plot. Set in the Victorian era, a young writer falls for and marries a mysterious inventor played by Tom Hiddleston. Upon moving in with him and his sister in their mansion in the English hills, she finds herself faced with a deadly mystery.
5. Welcome to the Blumhouse
Platform: Prime Video
Best for: Mature Audiences
Welcome to the Blumhouse is series of theme-related thriller-horror movies developed by Blumhouse productions for Prime Video. You may recognize Blumhouse Productions as the minds behind Paranormal Activity, The Purge, and Insidious.  So far there are 8 movies in the series with themes from vampire hunting to haunted nursing home.
6. American Horror Stories
Platform: Hulu
Best for: Mature Audiences
American Horror Stories is a spin-off of the popular TV series American Horror Story. While the original American Horror Story followed the same storyline for an entire series, American Horror Stories is an anthology where each episode is a different story that will frighten and amuse.
7. Scooby-Doo! Mystery Incorporated
Platform: Netflix
Best for: The whole family
This iteration of the popular cartoon series is spiced up with a complex plot so it appeals to both kids and adults. Scooby and the gang live in Crystal Cove, a small town known for its ghost and monster encounters. As the teenaged gang finds out, there's a bigger mystery behind these sightings. The series has only two seasons, but has a beginning, middle and end that are satisfying.
8. #Alive
Platform: Netflix
Best for: Mature audiences
We couldn't leave out a zombie flick. #Alive is a Korean film (subtitle alert) about how one young man survives a zombie apocalypse. You experience his shock, disbelief, despair, hope, and horror. It has guts, scares and adrenaline-pumping chases that will keep you at the edge of your seat.
9. Lore
Platform: Prime Video
Best for: Mature Audiences
Sometimes reality is stranger (and spookier) than fiction. Lore is an anthology series from the executive producer of The Walking Dead and an executive producer from The X-Files. Based on the podcast by Aaron Mahnke (something else you might be interested to stream with your home internet or mobile data) the series explores real life stories, folklore and superstitions with dramatizations, animations, and creepy music.
10. Odd Thomas
Platform: Prime Video
Best for: Teens, family
Odd Thomas, adapted from the book of the same name by Dean Koontz, tells the story of a young diner cook named Odd Thomas who can see the dead and other creatures. He uses this ability to try to save his town from a tragic event. It's a light-weight film that's simply a lot of fun.  This film is rated PG-13 so it's more appropriate to watch with teens.
11. You
Platform: Netflix
Best for: Mature audiences
Horror comes in many forms. You is a terrifying story of how romantic obsession can be deadly. Watch as a bookstore manager does what he thinks it takes to get close to his object of affection. Now in its third season, You is full of gore and shocking twists, and will leave you with goosebumps.
12. The Haunting of Bly Manor
Platform: Netflix
Best for: Mature audiences
This miniseries got a lot of hype when it first came out, and TBH it's well-deserved. Bly Manor is a mansion in the English countryside that's (you guessed it) haunted. An American governess with a tragic past of her own moves in and must face the terrors if she and the two children in her care are to survive.
Like all ghost stories, the unraveling mystery of how the place came to be haunted and by whom draws you in.
13. Army of the Dead
Platform: Netflix
Best for: Mature audiences
Directed by Zack Snyder and featuring Dave Bautista, Army of the Dead has zombies and gore with a casino robbery thrown in for added adrenaline. Unlike Snyder's 2004 Dawn of the Dead, this one has a few laughs and will not give you nightmares. Maybe.
This list is by no means exhaustive. All the streaming platforms have tons of great selections that you can stream with your Home Internet and BEAM. Some have already curated content for you and have created categories for their Halloween picks, like "Huluween" on Hulu. Just remember to be safe, have fun and have a happy Halloween.